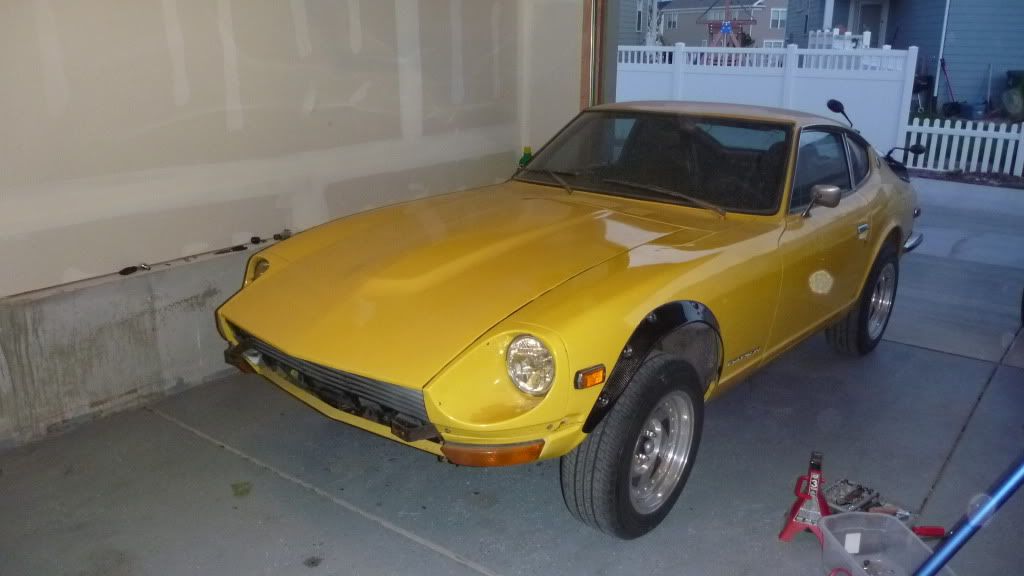 So Today I thought I would just get the motor officially mounted, bolted in etc.
I keep messing with it a couple of mins at a time but I havent had anyone to help me with placement etc so I have just been putting it off.
I figured I could probably mount it if I just got patient so I did.
It took forever rocking the trans and motor moving it up, down, teetering it, pushing it back, and overall shoehorning it into the car.
Finally I got the motor mounts all lined up and in but then came the problem, The trans MOUNT IS NOT THE RIGHT ONE! I am pretty sure that Jason had a 73, and the mounts change between 70-72 and the 73+. So I guess It's time for another call to Mckinney to see if they ll break up a mount kit and sell me the Trans mount alone?
To Give you an idea, Here is as high up as the mount can go with both bolts threaded in maybe two turns?
Left:
I know the first thing anyone will say is, "Just drill it out," but the shape of this thing will not permit for a modification.
Here is my next worry, Not sure if the motor should tilt that much? The trans seems level though as does the shifter mount, so maybe it's fine?
It is nice that I could get the hood on though again and it all seals right up!